The Black Mamba Review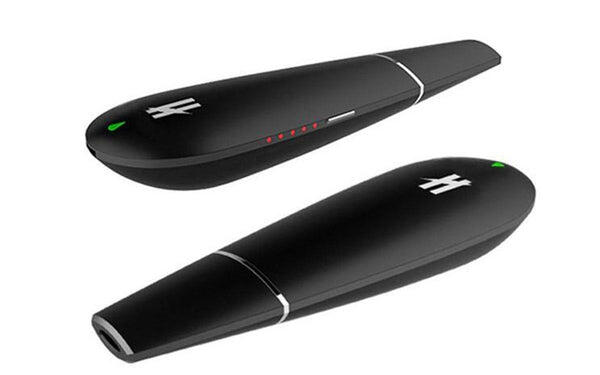 Meet the Black Mamba Vaporizer
If you're a vaping beginner looking for an affordable portable dry herb vaporizer, the Black Mamba is an excellent option. Sleek and user-friendly, this lightweight device is ideal for vaping on the go wherever you might be.
As far as budget vaporizers go, this device has everything you could want—from precision temperature controls to a clean glass vapour path that delivers exceptional flavour.
The Black Mamba costs a fraction of the price you'd expect to pay for a high-end model, and delivers much of the same functionality. This makes it ideal for those who are new to vaping, as well as more advanced users in need of a reliable backup vape.
5 Big Questions About the Black Mamba Vape
Black Mamba doesn't have the name recognition of other popular brands like Storz & Bickel, so finding reputable information on it can be a challenge. Luckily, we've got the answers to your most pressing questions:
1. What can you vape with the Black Mamba?
This is a dry herb vaporizer, intended to be used with ground herb (and its extra-large oven chamber can hold up to 0.6 g, making it well-suited for this purpose). However, if you're interested in vaping concentrates, you'll want to look elsewhere.
2. Is it portable?
Absolutely—the Black Mamba is one of the sleekest and most pocket-friendly vaporizers on the market. Weighing just 190 g, it's about the same size as an average smartphone.
3. Can you adjust the temperature?
Yes, using the single button on the side of the device. You can choose your ideal vaping temperature from one of the five preset options.
4. How long does the battery last?
You can expect to get around one hour of continuous use from the Black Mamba's 1600mAh battery. Charging the device with its USB charger will take around 3 hours.
5. Does it have a warranty?
The Black Mamba comes with a 1 year limited warranty from the manufacturer, which covers factory defects and related issues.
Using the Black Mamba Vaporizer
As befitting a beginner-friendly vaporizer, the Black Mamba is quite simple to use. Here's what you should know about it:
1. How to Operate Your Black Mamba
Loading your Black Mamba is easy—just unscrew the mouthpiece and load the oven chamber with your ground herb. Make sure not to pack it too tightly. When you're done, reattach the mouthpiece and hit the power button to turn on your device.
2. How to Get the Best Vapour Quality
The Black Mamba has five preset temperature settings, ranging from 180°-220° C. Press and hold the power button to toggle between settings, which will be displayed via LED lights on the side of the device. The top light indicates your vape is at its lowest temperature, with the lower lights indicating increasing levels of heat.
3. How to Clean It
To clean the large ceramic chamber, remove the mouthpiece and use the tweezers included to remove any remaining herb. Then, use a cotton swab and some isopropyl alcohol to wipe down the oven. The glass mouthpiece doesn't need to be cleaned, but you can wipe down the front as well if desired.
What Makes the Black Mamba Popular
Since the Black Mamba was released, it's earned a loyal fan base among vapers around the world. Here's what they like about it:
It's extremely affordable. It's hard to find a vaporizer priced as low as the Black Mamba, and considering what you get for the cost, it's a remarkably good deal.
It allows for extra-discreet vaping. While it's not quite as inconspicuous as a vape pen, the Black Mamba is about as small and sleek as a dry herb vaporizer can be. This makes it perfect for those who like to vape in public.
It's simple to use. There are no apps or complex display panels here—with the press of a single button, you can control all of the Black Mamba's functions. Plus, cleaning is quick and easy.
Black Mamba Vaporizer Key Features
The Black Mamba is a relatively utilitarian conduction vaporizer, but it still has a number of features that are worth a mention. Here are some of the things that make it special:
1. Design
The Black Mamba is designed to fit comfortably in the palm of your hand, and the durable black plastic coating makes it resistant to drops and other wear-and-tear. The teardrop-shaped body of the vaporizer gives it a distinct look—build quality is definitely a plus here.
2. Quick Heat Up Time
Your Black Mamba will go from 'off' to 'ready to use' in a mere 20 seconds, one of the fastest heat up times on the market. The conduction heating system is remarkably efficient for such an affordable device.
3. Glass Air Path
If you're wondering about the vapour quality of the Black Mamba, you'll be pleasantly surprised to know it's the equal of many more expensive devices. The glass air path ensures your vapour doesn't pick up any funky flavours before it reaches your lips.
4. Large Oven Chamber
Since the Black Mamba can hold up to 0.6 g of ground herb, you'll (probably) never have to worry about stopping in the middle of a session to pack a fresh bowl. This makes it ideal for long days out of the house.
Beware of Fakes on Other Marketplaces!
Herbalize only carries authentic products delivered straight from the manufacturer. Some online retailers, however, have been known to sell counterfeit products. Please contact our friendly customer support if you have any questions.
Technical Specifications
| | |
| --- | --- |
| Vaporizes | Dried herbs |
| Storage capacity | 0.65 grams |
| Pre-configured temperature levels | 5 Settings (180 ° C to 220 ° C) |
| Initial warm-up time | 20 seconds |
| Heating system | Conduction |
| Heating chamber material | Ceramic |
| External coating material | Plastic |
| Battery capacity | 60 minutes |
| Charging time | Full charge in 3 hours |
| Compatibility with chargers | USB |
| Compatibility with smartphone applications | No |
| Other functions | One button operation |
| Dimension (W x H x D) | 14.5 cm x 4.6 cm x 2.6 cm |
| Weight | 190 grams |
| Warranty | 1 year manufacturer warranty |
**For legal use only
Unboxing the Black Mamba Vaporizer
If you have read other blogs here at Herbalize, you may be familiar with the way I like to review vaporizers; and all my reviews usually start with my first impressions of the vape, beginning with the packaging.
When I got the Black Mamba vaporizer, my first impressions of the packaging gave me some high hopes for the vaporizer inside. It comes in a really nice black on black box, with some nice textured writing.
Of course, I know that the packaging is a minor detail, but I always love a company that pays special attention to all details, including the packaging.
Moving on, I was excited to see the vaporizer in person, so I immediately moved the box into my living room, and began opening it.
What is in the Box?
The Black Mamba comes with all you need to start your vaping journey except for, of course, the dry herb you'll be vaping. The box comes with:
The Black Mamba Vaporizer Device

2 Glass Mouthpieces with their Metal Filters

A Packing Tool and Tweezers

A Cleaning Brush

It's USB Charger

And Easy-to-Read User Manual
I was pleasantly surprised to find that all the items within the box were of high quality make, and that the company had not only focused on the quality of their vaporizer, but also of all its accessories and tools.
Checkout: - Best Dry Herb Vaporizers 2022
A Look Inside
The Black Mamba vaporizer has a number of different features within it that allow it to produce high quality vapour every time. The first feature worth mentioning is the Black Mamba's ceramic convection chamber.
Many claim that vaporizers with high quality ceramic chambers always produce smooth and tasty vapour clouds, and I definitely agree with this statement from personal experience. Additionally, it holds a whopping .65 grams of tightly packed dry herb for an ultra long and ultra tasty vaping experience.
The next feature which I love is the glass mouthpiece which also serves as a vapour chamber. It is made from very high quality glass, and the fact that is is made with this material allows the vapour to pass through the vaporizer seamlessly and smoothly.
This mouthpiece is a feature which makes the Black mamba a wonderful choice for beginners because it is easy to clean, and is easy to replace when needed.
The Black mamba also features 5 preset temperature options, which vary from 356 degrees Fahrenheit (180 degrees Celsius), which is a standard low temperature that offers smooth and tasty hits; all the way up to 428 degrees Fahrenheit (220 degrees Celsius), another standard higher temperature, which offers large and dense hits.
In addition to these awesome features, the Black Mamba is once again a great vaporizer for beginners because it only has one button with which you can turn the vaporizer on and off and flip through and choose from all the temperature settings.
The device is intuitive, easy to use, easy to load and unload, and is very low maintenance. For these reasons I think the Black Mamba is a great low price vaporizer for people who are just starting out in the vaping community and wish to try it out.
The device will offer first time users a good and easy experience, free from any complicated loading and unloading processes, and far from any need of fancy accessories.
Of course, if users would like to "upgrade" from the Black mamba at any point, there is an impressive variety of other vaporizers at different price points on the Herbalize Store Canada website, so feel free to take a stroll around the website and see if there are any other vaporizers that strike your interest.
The Final Verdict on Black Mamba Vaporizer
The Black Mamba provides tasty vapour and reliable performance at an excellent price point. If you're in the market for a dry herb vaporizer that won't break the bank (and won't leave you hanging if a part malfunctions), this is an appealing option. Advanced vapers might prefer a 'fancier' device like the Arizer Solo or Storz & Bickel Mighty, but beginners will love the user-friendly design—and everyone can appreciate the long battery life and the lack of attention it'll attract.
---