Puffco Peak PRO Review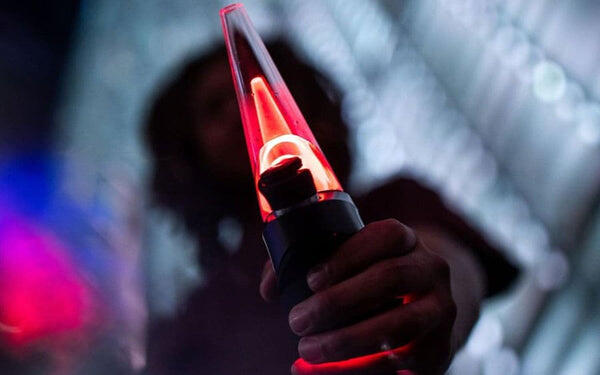 Overview
After three years of tinkering, Puffco has finally released the product we have all been waiting for, the Peak Pro. We've been putting it to the test and can't wait to share with you what we have discovered. The Puffco Peak Pro Vaporizer is the newest generation smart E-Rig from Puffco who is widely considered to be the E-Rig industry leader.
The original, groundbreaking Puffco Peak was released in early 2018. The Original Puffco Peak was not without its share of issues, however, Puffco was quick to resolve them in their product updates. They have now had plenty of time to rethink the design entirely. Every single component has been completely redesigned and optimized resulting in the all-new Puffco Peak Pro. It would be an understatement to suggest we don't have high expectations!
Puffco Peak PRO´s new Features
Atomizer
As previously mentioned, the atomizer has seen a complete redesign. The new, closed system atomizer can't be disassembled. The negatives of this are that if you are a tinkerer and like to fix things yourself, you can no longer disassemble the atomizer. It also means you can't change the bowl or torch the bowl clean.
The upsides of this new design are a 40% larger bowl capacity from the original Peak meaning bigger dabs and a lower risk of overloading. There are also three in-built sensors that continually monitor the bowl's temperature. As there are three points of temperature detection, you are getting an accurate temperature reading regardless of load size or other variables. This level of intelligent temperature control is unique to the Puffco Peak Pro. The accuracy of the sensing is the kind of excellence that NASA would be proud of, however, the Puffco Peak Pro won't send you to space (other than metaphorically).
Oculus Carb Cap
The new carb cap has been given the attention it deserves from Puffco. To start with, it features an integrated window so the user can look in and see their concentrates vaporize. This is a cool touch, however, we found that in practice it is still quite hard to see into the chamber. In order to prevent you from losing your carb cap, it is connected to your atomizer via a tether. This is really handy if you are the type of person who loses small things easily. Finally, the carb cap has been optimized for airflow and superior vapor quality. This makes the Oculus a small yet significant upgrade to the Puffco Peak Pro.
The new App
The Peak Pro comes with its own smartphone app which you can use to customize your heat presets and adjust the lights. More specifically, you can adjust the temperatures of the four presets or create your own presets using any combination of temperatures and colors. The app also gives you important information such as battery life, daily dabs, total dabs, and bowl temperature.
There is also a fun part (we love fun parts). You can use the smartphone app to enable the product's disco mode. That's right, the product has its own DISCO setting. This is perfect if you want to use your device as a visually striking decorative ornament, it looks just like a lava lamp! Other lighting modes include strobe and wave mode or if you can just turn the lights off entirely.
The App is easy to download and set up. This is a clear-cut process for Android users, however, downloading the App with an iPhone requires one extra step (using a Bluetooth-enabled browser) in order to skirt around Apple's ban on vaporizer apps in the App Store. We didn't consider this to be a problem at all, in fact, Puffco has created a guide on how to download the App using Apple devices. As you will be able to see, the guide is not very long because it is a super simple process.
Mood Lights
Looking to create the perfect mood? Look no further than MOOD LIGHTS, the new app feature for Peak Pro. You can dial in the vibe with custom lighting effects, colors, and animation styles. Plus, you can save your moods and assign them to your heat profiles for an extra touch of personality. So whether you're feeling playful or peaceable, there's a light setting for you. So go ahead and express yourself - it's free and part of a simple update to the app available to all users.
Vapor Quality
There are several reasons why the Peak Pro's vapor quality is at the top of its game. The new and improved bubbler has a higher water level than its predecessor. This results in a much smoother vapor experience. The atomizer has a 40% larger capacity so it can handle more concentrate. Finally, the newly designed Oculus Carb Cap is awesome. It features a directional air-path that is designed to maximize vapor production.
There were reports that the original Peak would struggle with large loads. This has clearly been dealt with by Puffco as the Peak Pro has been designed to tackle large loads with ease. We found that at lower temperatures, the draw is full of flavor and still potent with little to no harshness. As you approach the higher temperature settings, there is some harshness (which you would expect from such high temperatures). The water filtration does a great job of cooling the vapor before it reaches you.
Manufacturing Quality
We were generally really happy with the original Puffco Peak when it was released 3 years ago. Naturally, as time has passed, our expectations have been raised significantly. First of all, as mentioned earlier, all the previous shortfalls from the Original Puffco Peak have been resolved in the Peak Pro. We would have expected nothing less. So far, our impression of the Puffco Peak Pro's build quality has been really high as would be expected in a product with such a serious price tag.
We have been putting our Puffco Peak Pro to the test. We've gotten the whole team to have a go at it, not just the hardware nerds among us. So far, our verdict has been overwhelmingly positive. The Puffco Peak Pro has clearly been built using premium materials. We think the Puffco Peak Pro is built like a tank and will last for years. Fortunately, Puffco warrants the product against defects in design, assembly, material, or workmanship for one year for the product and one month for the atomizer. Trust us when we say that your Puffco Peak Pro will last much longer than a year.
What materials can you vape?
The Puffco Peak Pro is perfect for vaping wax and concentrates. This is what it is built for as an electronic dab rig. If you are more interested in vaping dry herbs, you may want to check out the Storz and Bickel's Mighty Vaporizer.
How long do Puffco Peak atomizers/coils last?
Puffco Peak Pro atomizers have a one-month manufacturer's warranty. We have found they seem to be really well assembled and well manufactured. The materials used also seem premium. We haven't had to change ours at all yet. We can assure you that if you follow the cleaning and maintenance instructions, you are set to last a long while. Fortunately, replacement atomizers for the Peak Pro are not too expensive, should something happen to your atomizer.
How long does the battery last?
Puffco has thought of everything when it comes to power management. The Puffco Peak Pro boasts a very confident 30 dabs. We decided to try it for ourselves and managed to get 28 dabs out of the first full charge and 29 out of the second. You can purchase the wireless charging upgrade for a truly seamless and futuristic charging experience. This is perfect for the hardcore users who want the slick experience of wireless charging in their lives. The charging port is a USB-C which is really useful considering most Android phones charge using USB-C these days.
How portable is the Puffco Peak Pro?
The Puffco Peak Pro is not the most portable product on the market. Its size provides some massive benefits (large chamber and water tank create superior vapor quality and high chamber capacity). The downside is reduced portability, it certainly won't fit in your pocket. Fortunately, there are more portable products out there, if this is your primary concern, such as the Puffco Plus.
Whilst the Puffco Peak Pro is not quite pocket-sized, it does come equipped with its very own hard carrying case which makes it really easy to transport from A to B safely and stylishly. This case (like virtually every other aspect of the Peak Pro) has seen a vast improvement on the previous case. It now contains magnets that help it to snap shut. It also feels more expensive and sturdy.
Is the Peak Pro easy to use?
The Puffco Peak Pro is SUPER easy to use. You can use the smartphone App to change temperature presets and adjust the lighting. Make sure you have remembered to fill the glass with water just above the air holes. When you are ready to go, you simply click the button (hold down for 3 seconds if the device has been locked) to cycle through the heat presets. The standard presets are Blue (low), Green (medium), Red (high), White (super high). Double click to initiate heat-up. The device will flash and vibrate when it's reached the specified temperature.
If you would like a little more in-depth instructions on how to use the Puffco Peak Pro, check out our Puffco Peak Pro - How to use Guide.
How to clean the Puffco Peak Pro?
The Puffco Peak Pro is super easy to maintain. Fortunately for you, we have written a Comprehensive Cleaning Guide for the Puffco Peak Pro. We advise cleaning your Peak Pro thoroughly every time the battery is fully depleted. This will ensure there is never any build-up of residue or dirt.
Checkout: - Puffco Peak Pro Cleaning Guide
Is the Puffco Peak Pro worth it?
At £309, the Puffco Peak Pro is not the cheapest… but does that make it the best on the market?
Puffco Peak vs Peak Pro
What better way to decide if the Peak Pro is worth the money than to compare it to its predecessor, the Puffco Peak? Both devices have a similar height and weight. They are both super easy to use, clean, and maintain. They are both durable and will last for ages if they're properly cared for. Here are a few of the notable improvements of the Peak Pro:
The Peak Pro comes with USB-C charging which is more power-efficient and compatible with most Android smartphones.
The new optional wireless charging station for the Peak Pro makes charging a first-class experience.
The Peak Pro comes with its own Smartphone app for easy customization.
A larger bubbler with a higher water level makes for enhanced water filtration and smoother dabbing.
The Peak Pro has a matte shell rather than the shiny one found in the Original
The new Oculus Carb Cap has a small window so you can see your concentrate as you are dabbing. It also has directional airflow for enhanced vapor quality.
The atomizer has a 40% larger capacity than its predecessor.
The battery life in the Peak Pro boasts 30 uses out of one charge.
Final thoughts
The new features found in the Puffco Peak Pro are not found in any other Electronic Dab Rig. This makes it a worthwhile investment for dabbing enthusiasts. For €479, it may be one of the most expensive e-rigs on the market, however, it is packed full of enhanced features that make it earn the price tag.
The massive chamber size, high-volume water tank, optimized vapor quality, and real-time temperature control coupled with the easy-to-use smartphone app makes for a seamless, beautiful, and customizable dabbing experience.
Checkout: - The 13 Best Wax Vaporizers
All New Peak Pro
Get 5% OFF: 
  LOVE5  
Copy and Paste code at Checkout
---