Storz & Bickel Plenty Vaporizer Review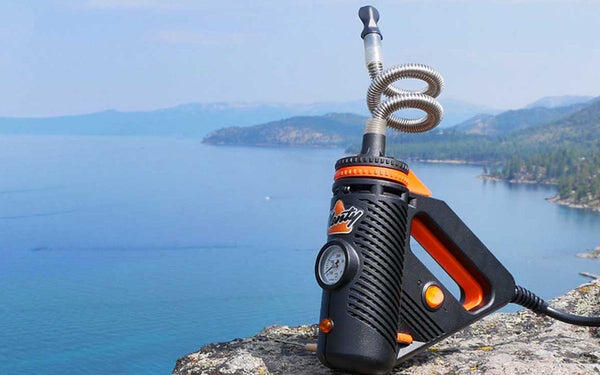 In this article, we will be reviewing the very popular vapeon the market, the Plenty Vaporizer; manufactured by Storz & Bickel, a German company that always strives to offer the absolute best quality products.
Finding a high-quality vape can be a difficult process; there are thousands of options and it's hard to know if you are getting quality for what you paid for. However, fear not! You will be more than satisfied if you decide to get a vaporizer by Storz and Bickel.
PLENTY Vapour Quality
When searching for a new vaporizer, one of the most important things to keep in mind is vapour quality. You want to find a vaporizer that will produce high-quality vape, always.
Storz and Bickel know this better than anyone and always manufacture their products to offer the absolute highest quality of vapour.
With a very affordable price, Storz and Bickel allow everyone to have quality vapour, without having to spend too much money; which is great! All of their vaporizers have a great quality vape, no matter the product or price.
Aesthetic and Feel
Quality is of course super important for vaporizers but so is look and feel. The Plenty Vaporizer is a handheld vape; it is more of a desktop vaporizer than a portable unit.
It has to be plugged into the wall, so it is better for at home use, parties or inside events. It has the look of a power tool and its purpose is to produce a lot of high-quality vapour.
For some, this look might not be what they're looking for; however, if you are searching for something that will give you a sky-high vaporizer experience, the Plenty is perfect for you.
Performance and Features
A great thing about the Plenty Vaporizer, is that is can be used with both wax/oil and dry herb. It is super simple to use and does not come with any fancy apps that can become annoying or simply be complicated.
It does its job effectively; providing a fast vape session It has a fast heat-up time and doesn't take a long time to get the vape going.
The Plenty Vaporizer has a range of temperatures, so you can choose your preferred settings. Unlike other dry herb vaporizers, this kit includes a small liquid pad; so you can enjoy some wax or oil.
The Plenty has a large oven, making it perfect for heating herb evenly. Plenty uses convection heat, which is becoming super popular; it improves performance, vape quality and taste.
Pro Tip – Before using it for the first time; allow the oven to heat up to its maximum temperature. This will eliminate any impurities in the heating chamber and will give you a clean, new chamber to enjoy your herb, wax or oil.
High-Quality Build
Although the Plenty Vaporizer is slightly cheaper than other products manufactured by Storz and Bickel, the quality is just as good. The Plenty is a solid and durable unit that can last years if cared for properly.
Its stainless steel heating chamber contributes to its great quality of vapour. It does not include any glass pieces, making it durable and easy to move around without worrying about it breaking.
It has a good 0.30 grams of storage capacity and it has an overall great build quality and design.
Storz and Bickel did an incredible job at designing and manufacturing this Plenty Vaporizer, like all their other products. They took into consideration small details and perfected it, and their hard work is paying off.
Thousands of people have enjoyed the Plenty Vaporizer and it is still super popular in the vape community.
Convection Heating
Vaporizers have now evolved and improved; one of the newest improvements is convection heating. You might have heard of convection heating in science class or on vaporizer sites, but what is convection heating?
A convection heating system operates by air convection currents and circulates hot air through the system. Thousands of companies are using this new and improved heating system for their vaporizers, but why?
Convection heating allows more precise temperature control and this is super important when it comes to dry herb and wax; overheating can cause bad taste and minimalize the effect of the herb or oil.
This heating system creates very clear and potent results; improving vapour quality and taste. Having a good vaporizer might not seem important but no matter how good the herb is, you need a good quality vaporizer to receive its complete benefits and effects.
Almost all vaporizers manufactured by Storz and Bickel use convection heating; which might be why they are so well known for their incredibly high-quality vapour.
They have taken every last thing into consideration while designing their vaporizers and their customers benefit greatly from their love for detail. The Plenty vaporizer is one of their popular vaporizes that is well known for its convection heating system and high-quality vape; it's one of the best.
Other Storz & Bickel Products
As mentioned above, Storz and Bickel products offer some of the best quality vapour and products in general. If you are new to the vaporizer community and are looking for something that will provide the ultimate vaping experience at a great price; their vaporizers are your best option.
They offer a wide variety of products; including the Volcano Vaporizer, the Crafty Vaporizer and more. These products have become so popular due to the quality they offer while still being at an affordable price. When it comes to great vaporizers, Storz & Bickel is at the top of the list.
The Mighty Vaporizer - The King of Portables
When looking at Storz and Bickel Vaporizers, the Mighty Vaporizer should not be left out. It has been rising in popularity and is a favourite in the vape community.
This vaporizer packs a punch and is perfect for those that want to vape, fast. It offers super high-quality vape like all of Storz and Bickel Products and always leaves you more than satisfied with its performance.
The Volcano Vaporizer - A High-Quality Vaporizer
It has been the most popular desktop vaporizer since 2000 and its popularity is well deserved. It is compatible with herb, oil and wax; making it perfect for people who love experiencing new things or who enjoy switching things up.
It uses a high-quality convection heating system that offers smoke-free, pure and clean vapour; which is what you want when looking for a vaporizer.
Both the Volcano Classic and the Volcano Digit are perfect for house use, indoor events and parties. High-quality vapour is delivered by a balloon system that uses Storz and Bickel's super-effective easy valve system.
You can store the vapour in the balloons for over 8 hours, making it easy to share, portable and fun! After 12 years of research, the Volcano Vaporizer has been certified as a medical-grade vape device; due to its lack of smoke.
The Plenty Vaporizer VS Volcano Vaporizer
Both vaporizers are super popular in the vaporizer community, but which is better? In reality, the answer varies from person to person. Both vaporizers offer high-quality vapour, have a good build and are durable.
They are both categorized as desktop vaporizers; perfect for home use. One thing that really makes them different is their look and feel.
The Plenty Vaporizer is smaller than the Volcano and is more of a handheld unit. The Volcano is better for someone looking for a vape that will deliver a lot of vapour for a group of people, a party or event.
The balloon system used with the Volcano makes it great to share and store and is great for groups of people or friends. The Plenty, on the other hand, does no deliver as much vapour as fast as the volcano and is better for small groups of people or for at home use.
When it comes to prices, both units are very reasonable. When purchasing a Storz and Bickel product, you always get quality; which is super important. The Volcano is pricier than the Plenty.
Furthermore, if you are looking for a high-quality desktop vaporizer that is in the 200 to 300 price range; the Plenty is for you. However, if you are looking for something that will last you for years, come in handy with friends and will deliver clouds and clouds of vape; the Volcano is for you.
Want to learn more check out our full Volcano Vaporizer Review, or check out the product on the Storz & Bickel vaporizers collection.
The Arizer Extreme Q Desktop Vaporizer
The Arizer Extreme Q Vaporizer is not manufactured by Storz and Bickel, but it should not be left out on the list of great quality desktop vapes. This super popular vaporizer is multipurpose; it functions ad an aromatherapy diffuser and deodorizer whilst also allowing users to fill a balloon for portable vapour or draw from a high-quality whip system.
It delivers cool, clean vapour; maximizing taste and effect. It is considered one of the best desktop vaporizers; alongside the Plenty Vaporizer.
Its versatility makes the Arizer Extreme Q a must-have for many consumers. It uses a three-speed fan system for drawing vapour from the machine and its silicone tube delivers smooth and pure vapour, always.
It comes with a remotes control; allowing you to control the temperatures, the fan and auto-shut of function. The manufacturer took three super important aspects into consideration when designing and creating the Arizer Extreme Q; quality and reliability, a high-quality remote control system and it's multipurpose.
The Arizer Extreme Q is categorized as a desktop vaporizer due to its size and functions. It is not considered mobile or easy to take on the go; but it is perfect for at home use.
It is for dry herb use only but its many uses make up for the no-oil aspect of the unit. Customers have reported always having good tasting vape and almost always have favourable, satisfied reviews. It is definitely a great option to keep in mind when looking for a high-quality desktop vaporizer.
Checkout: - Best Dry Herb Vaporizers 2022
The Arizer Extreme Q VS the Plenty Vaporizer
Just like any other comparisons and reviews, choosing a unit is always up to the individual; depending on size preference, style, design and budget. When comparing these two high-quality vaporizers, there are many apparent differences; but they are both super popular desktop vaporizers.
The Arizer Extreme Q is sold at a cheaper price range than the Plenty, but the vape quality of the Plenty Vaporizer makes it well worth its price.
The Arizer Extreme Q does have various functions, but it is for dry herb use only. The Plenty Vaporizer, on the other hand, can be used with wax, oil and dry herb; this is one of the things that makes the Plenty Vaporizer more appealing to some users because it allows more versatility.
In terms of size, Plenty is a smaller unit, compared to the Arizer Extreme Q; but neither are considered very mobile.
Both of these vaporizers offer high-quality vapour and are worth their price; the only aspects that make them different are their performance and features.
However, they are both super popular in the vape community and are highly recommended on the list of great desktop vaporizers. Want to learn more about the Extreme Q? Read our Arizer Extreme Q review.
Why Vaporizer Reviews are Helpful?
Vaporizer reviews sole purpose is to make the process of finding the perfect vaporizer easy and stress-free. By taking real customer reviews, we like to share important info that will make finding the right vape easier.
There are so many options to choose from and that is why focusing in on a product, its performance and its quality makes it less complicated to choose from the large variety.
Here at Herbalize Store, we have hundreds of reviews of countless products and also product comparisons, so our customers can enjoy their vape searching experience more fully.
Plenty Vaporizer
Get 5% OFF: 
  LOVE5  
Copy and Paste code at Checkout
We offer the best products and the best info, so our customer's satisfaction can be complete. We hope we helped you understand these vapes better! So Choose the right vape for you and get that great vape going.
Information Sourced from our own experience and the manufacturer.
---