DaVinci Miqro vs Fury 2 Comparison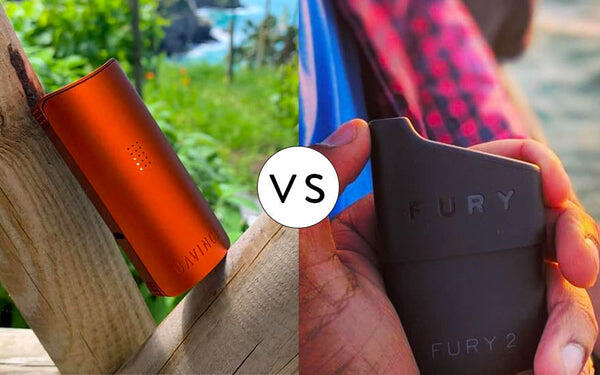 The DaVinci Miqro vs Fury 2 vape comparison is a much-awaited vape battle between two of the best 'mini' vapes on the market, and we can't wait to get into all the fun details.
We'll go over each vape's strongest points, their features and technical specifications, and their pros and cons. So let's get to the good stuff!
Miqro Vaporizer | DaVinci
The DaVinci Miqro is DaVinci's smallest vaporizer at only 7.9cm (3.1in) tall. It's incredibly portable, very discreet, and it's the perfect companion to have during your quick errand runs or leisurely strolls.
It fits perfectly into pockets (even in women's jean pockets -- ladies, you know how small they are!), purses, and pouches; and it is so lightweight you'll have no problem adding it to a heavier load.
It is strictly for dry herbs, but since DaVinci is so amazing at creating dry herb vaporizers, we like the fact that they used the Miqro vaporizer as a way to focus solely on dry herb, unlike with the IQ collection, which can be used with concentrates and dry herb.
All in all, it's a great vape and it's really popular among the vaping community. It's small but it's super potent!
Fury 2 Vaporizer | Healthy Rips
The Fury 2 is an amazing vaporizer made by Healthy Rips which has been on the market for a little while now, but it hasn't ceased to be one of the most popular 'mini' vapes in the slightest! It's super small, incredibly portable, and it can be used with a beautiful glass piece that makes the vape taste amazing.
Due to its size, the Fury 2 vaporizer is very easy to underestimate, but don't make that mistake! The Fury 2 has a powerful Class A 1600mAh Lithium Polymer battery that supports its hybrid (convection and conduction) heating.
It can be used with dry herb and concentrates, and the vapuor is amazing when using both. You'll love this vape for sure!
Checkout: - Best Dry Herb Vaporizers 2022
The Basics: Feature Comparison
MIQRO

CATEGORY

FURY 2

$149.00

Price

$118

Dry Herb

Compatible With

Dry Herb and Concentrates

Less than 40 Seconds

Heat-up Time

Less than 25 Seconds

Manual

Precise Temperature Control and Smart Paths

Temperature Settings/Manual adjustment?

Manual

Precise Temperature Control

Conduction Heating

Heating Element

Hybrid Heating

Yes

App Required?

No

Ceramic

Oven Material

Food Grade Stainless Steel

0.2g

Oven Capacity

0.175g - 0.205g

Ceramic

Vapour Path

Food Grade Stainless Steel

Yes

Removable battery?

No

+/- 6

Sessions per charge

+/- 6

90 - 120 Minutes

Charge time

75 - 90 Minutes

7/10

Draw resistance

8/10

9/10

Vapour Smoothness

9/10

10/10

Flavour/taste

9/10

7/10

Odour Level

8/10

China

Country of Origin

China
1. Look and Feel
In terms of look and feel, the DaVinci Miqro and the Fury 2 are very different. In one corner we have the DaVinci Miqro, which is made from sleek brushed metal on the exterior, has a selection of a range of beautiful colours and feels elegant and almost dainty.
In the other corner, we have the Fury 2 vaporizer by Healthy Rips, and this is very small and square, made with a beautiful satin finish, comes in all-black only and has somewhat of a futuristic feel to it when vaping.
They're both very beautiful in their own way, and it needs to be said that they're both made with incredibly high-quality materials, and designed to give you an awesome vaping experience every time you use either one.
However, in this category, you'll have to be the judge because they're so different it depends on which suits your preferences best.
2. Heating Method and Battery
The DaVinci Miqro vaporizer is complete with a powerful removable 18350 battery which supports the vape's full convection heating system.
The best part about the removable is that when you purchase one (or get one in the full DaVinci Miqro bundle) you can always have a charged battery in your kit for smooth vaping throughout the day.
The Fury 2 by Healthy Rips has a non-removable 1600mAh Lithium Polymer battery which beautifully supports the vape's hybrid heating.
The combination of both convection and conduction makes this vape much more versatile and it helps you get the most out of your products. We love the way it can vaporize both dry herbs and concentrates without an issue.
3. Temperature Range and Heat Up Times
The Miqro vape has a temperature range of 50℃ - 221℃ (122℉ - 430℉), which is perfect for vaping dry herb, no matter if you want to vape your herbs on a low or high temperature. The unit heats up in around 40 seconds, which is a little long, but it does the job very nicely.
This vape boasts 4 different Smart Paths to choose from, which allow you to vape hands-free and still get the most out of your vape from the changing temperatures.
The Fury 2 vape has a temperature range of 160℃ - 220℃ (122℉ - 430℉), which isn't as wide a range as the Miqro but still has enough range in there for those who want to vape both herbs and concentrate. The unit heats up in 25 seconds, and it is ready to vape after that short time.
This vaporizer has precise temperature control and doesn't have a Smart Path or pre-set temperature option, but many prefer precise temperature control anyway.
4. Device Controls and Display
The Miqro is very sleek, but it still manages to have up and down buttons and an on/off button.
They don't pop out much, and they're incredibly intuitive and easy to use. It has a 51 LED dot display on the face of the vaporizer. Some argue it can be hard to see because they're just dots, but others really like this feature.
The Fury 2 vape also has a very sleek set of buttons which include up and down buttons and a larger power button which is also what you press to vape from the device.
The Fury 2 has a big OLED display screen on the top, which is very easy to read, and from which you can see many of the functions and alerts from the vape.
5. Vapour Quality and Taste
This is one of the most essential categories in our DaVinci Miqro vs Fury 2 comparison because a vaporizer's vapour quality and vapour taste are what most people focus on when choosing a vaporizer, and we can't blame them! High-quality vapour is, in essence, what a vaporizer is made for!
The Miqro vape is truly amazing when it comes to vapour quality. It is smooth, it is tasty, and it really gives you that potency you're after when vaping your goods.
Due to the full convection heating of the vaporizer, the vapour taste is also exquisite, and it never comes out tasting too burnt or charred.
The Fury 2 vape produces incredibly high-quality vapour thanks to its dynamic hybrid heating system, and we can't get enough of it.
Of course, due to the nature of conduction heating, the vapour can seem a little hot at times, but the taste is still super great both when vaping concentrates and dry herb!
6. Pros and Cons Breakdown
Pros
| | |
| --- | --- |
| DAVINCI MIQRO | FURY 2 |
| Great Battery | Hybrid Heating Technology |
| Very Durable Body | Very Small and Compact |
| Perfectly Vaporizes Dry Herb | Precise Temperature Control |
Cons
| | |
| --- | --- |
| DAVINCI MIQRO | FURY 2 |
| Only 6 Smart Paths to Choose From | Non-Removable Battery |
| Hard-to-Read Display Dots | Short Battery Life |
| Flimsy Pearl Component | Only One Colour to Choose From (Black) |
Which is Better For Whom?
The DaVinci Miqro is for our dry herb lovers out there looking for a highly portable vaporizer that brings out the true aroma and flavour from your product, and that can be used continually all day thanks to its interchangeable battery.
We will say that the vapour can get a little hot at times, but this almost never happens and it doesn't have to be something to worry about at all.
The Fury 2 vaporizer is for all the people who want a truly versatile vaporizer that can be used with both dry herbs and concentrates, and which gives the same amazing vapour with both.
It's very small, which is perfect for those who like going on adventures, however, the shorter battery life (50 minutes) might cut your vaping adventures a little short.
All in all, they're both incredible vapes and shouldn't be underestimated! They might be small, but they're incredibly well made with the highest quality materials, and they really represent the power a small vaporizer can have!
Whether you choose the DaVinci vape or the Healthy Rips vape, you'll be more than satisfied with your choice. Trust us, we are always here to steer you in the right direction!
---
---