Sticky Brick Junior vs Original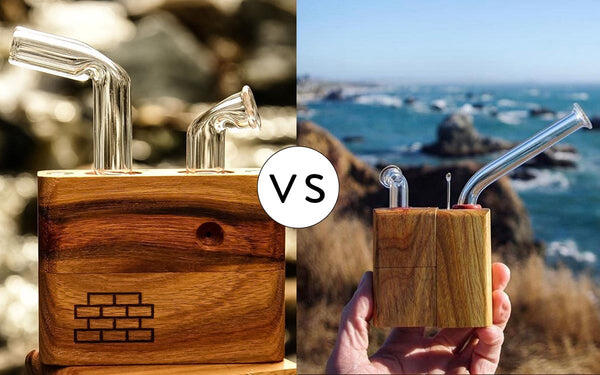 Due to the release of the Sticky Brick Junior, there has been a frequently asked question in the vape community; which model is better; the Sticky Brick Junior vs Original?.
The fact is, both vaporizers offer high quality vape and boast impressive craftsmanship. This is why in this article, we want to make your life easier by breaking down the functions, qualities and pros and cons of each, so you can choose what is ideal for your vape preferences.
The OG Brick Vaporizer
Sticky Brick does not only focus on the fancy appearance of their Brick vaporizer, but the functionality and ease of use.
This dry herb vaporizer always offers quality vapour hits from the moment you take it out of its box and it boasts a really great, fancy design. By offering 3 models to choose from; Rock Maple, Walnut and Cherry, it is easier to pick the style and feel of vaporizer you prefer.
The beauty of the Brick Vaporizer however, isn't the only thing that makes it a well known, sought-after model. Due to the attention to detail that Sticky Brick always puts in to their vaporizers; their units most commonly receive positive, satisfactory reviews from users.
Apart from the Brick Vaporizers classy design, here are some of this units pros;
It Offers High-Quality Vapour
This devices vapour production quality is due to its smart design; it cools the vapour down efficiently, allowing you to enjoy a smooth, delicious hit.
With only one bowl of quality dry herb, you can enjoy up to 4-5 big hits from this Brick Vaporizer; I believe that even heavy smokers would be impressed with the cloud size and quality it delivers.
It has a High-Quality Build
The Brick Vaporizer is made with the highest quality materials; the body is crafted from hardwood and the vapour path boasts a durable, thick glass top. All of its part and pieces are connected to the unit with strong magnets; ensuring that its part won't fall out at random and create a mess.
The high quality build of the OG Brick Vaporizer makes it one of the best option on the market; and the fanciest if you ask me. Although many vape users won't admit to it; the visuals, look and style of a unit is actually important; know that this units visuals will not disappoint.
Manual Heating and Temperature
Although some vape users do not prefer the manual aspect of this unit; I myself think it adds an old style feel to it that makes it more enjoyable.
The heating source for this unit is a manual torch lighter; meaning that it doesn't include batteries or LED lights or displays; making it feel more down to earth as opposed to an electric unit.
From the moment you unbox the Brick Vaporizer, you will get quality vape production and enjoy big, delicious clouds of vape from your favourite bud.
The manual heating and temperature however can be a little hard to get used to at first but once you get the hang of it, I believe you will enjoy the old style feel of this unit just as much as my peers and I do.
The OG Brick Vaporizer is for you if:
If you are looking for a high quality vaporizer that will not only deliver high quality vape but also impress your session buddies; the Sticky Bick OG is for you.
This unit is portable, but doesn't fit in to a pants pocket too good; making it better for those who enjoy at-home sessions. This unit doesn't require a lot of difficult maintenance or cleaning and its setup is relatively simple; making it perfect for beginners. It is by far one of the best options on the market today of dry herb vaporizers.
The Sticky Brick Junior Vaporizer
This dry herb vaporizer offers some of the best quality vapour on the market, just like its competition. Sticky Brick crafted this model with the smallest details in mind and although it boasts a more simple design and feel compared to the original Brick Vaporizer, it is still more classy and stylish when compared to other options on the market. This unit is made to satisfy the most picky vape users and its pros prove it.
It's Portable
This unit is much easier to take on the go than the OG Brick Vaporizer; making it better for those that enjoy taking delicious hits wherever they may be. It is not the smallest or most portable option on the market; however, it was made to be easily packed and taken anywhere in travel mode.
It Offers High-Quality Vapour
This unit also offers big hits of delicious vapour that can easily be compared to other hard-core cloud models such as the Dr Dabber Switch and the Storz and Bickel Mighty.
This unit does require a bit of practice and time to get used to the setting; but once you've got it down, you will able to enjoy it without the slightest trouble.
It has a Fancy Build
Like its competition, the Sticky Brick Junior has a really simple, yet handsome build and feel; it's made from hardwood and all its pieces are connected with strong magnets that keep the whole unit together nicely without any part or pieces falling out at random; which is an awesome pro.
The vapour path and heating hole are made with durable glass and allow you to enjoy your vape experience to the fullest extent.
Manual Heating and Temperature
The Sticky Brick junior is a convection heating vaporizer and is heated with a torch lighter like its competition. It offers the same old style feel and might need some getting used to due to its manual heating and temperature control. However, this unit is just as enjoyable as the Sticky Brick OG once you've gotten used to it.
The Sticky Brick Junior is for you if:
The Sticky Brick Junior is perfect for those who are looking for a relatively portable unit that can be enjoyed on the go. Its high quality make and fancy style also makes it ideal for those who want something that will impress session buddies but also have a sturdy and long-lasting quality.
Like its competition, it is at the top of the list of well-made, high-quality dry herb vapes.
See our blog post Sticky Brick Junior Review to see more information.
Sticky Brick Junior vs Original - Who Wins?
Although I would like to give a solid answer and say the winner is… with a drum roll playing in the background; I can't actually chose a winner. The fact that each of these units has its benefits and pros, makes it impossible to say which is perfect for an individual.
I do believe however, that the Sticky Brick is better for those that are looking for a sturdy, portable unit and the Sticky OG Brick is better for at-home sessions or parties.
Both units are high-quality vaporizer that are beautifully crafted and are set at reasonable price points. Their heating elements and manual temperature settings are similarly satisfactory.
I believe that both of these units are highly recommendable; the final decision is up to you however and no matter if you choose the Sticky Brick or Original vaporizer, you will be more than satisfied with either of these top-notch vapes.
---